DISTRIBUTION CENTRAL
AREAS OF APPLICATION
The air-lab modular distributor is designed for central air distribution within the utilities room.


It works by feeding the incoming and outgoing air for a specific zone to at least one
modular distributor, which then distributes this air to the piping system.
PRODUCT DESCRIPTION
This distribution system has a modular structure and therefore permits infinite configurations.
All of the exterior casing parts are made of EPP, which provides effective thermal insulation.
The module interfaces are designed in such a way that the system pipes can be connected
within a 45 degree grid along the distributor shaft.
This means that every distributor can be configured in whatever way is best suited to the
conditions on site, including in areas with limited space.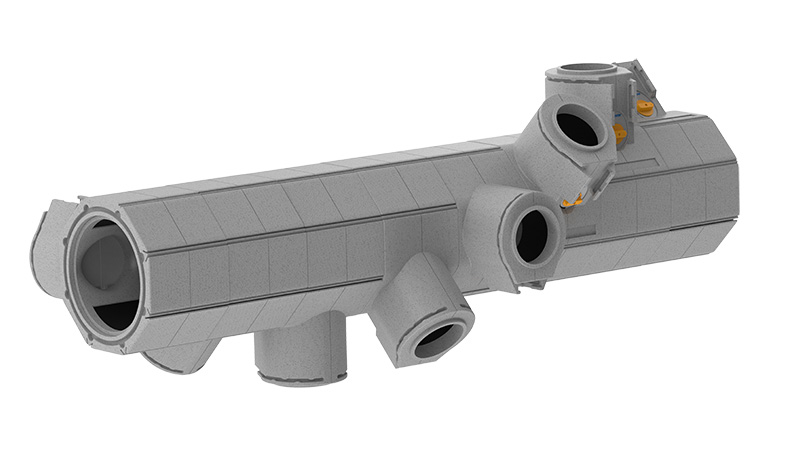 The individual modules feature double tongue and groove connections that interlock with each other.
They are furthermore sealed in two ways (with seals and adhesive), which makes them
extremely leak-proof and strong.
Combined distributor module

















Combined distributor module
FEED MODULE
The feed module is designed for connecting incoming and outgoing air pipes.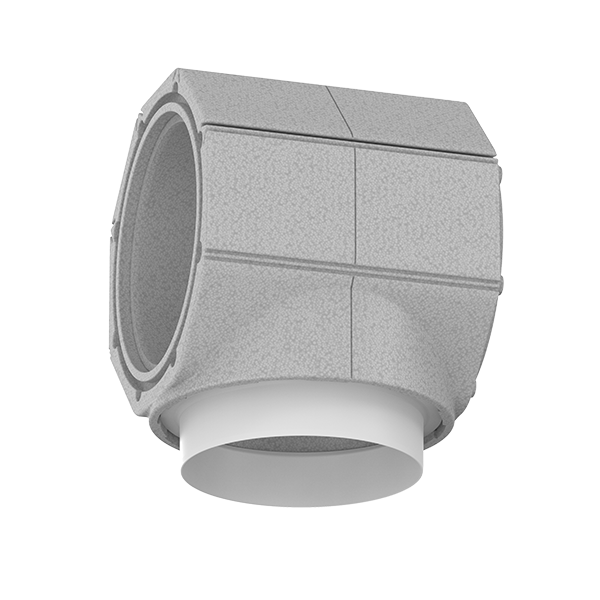 COMBINED DISTRIBUTOR MODULE
The combined distributor module is designed to distribute and regulate air flow to the
individual incoming and outgoing air pipe sections.
It features an integrated throttle valve that adjusts the module's internal cross section to control air flow.
The combined distributor module is furthermore fitted with an acoustic foam insert in the
distribution shaft and pipe interface area in order to reduce noise.
SPACER RING K/S
The K/S spacer ring is designed for adjusting the gap between two distributor modules.
BYPASS MODULE
The bypass module fulfils the same function as the combined distributor module
but is fitted with a second mechanically-coupled flow restrictor.
This flow restrictor (bypass) can be used to introduce supply air into a single room
at a different temperature.
The bypass module is furthermore fitted with an acoustic foam insert inside the
distribution shaft.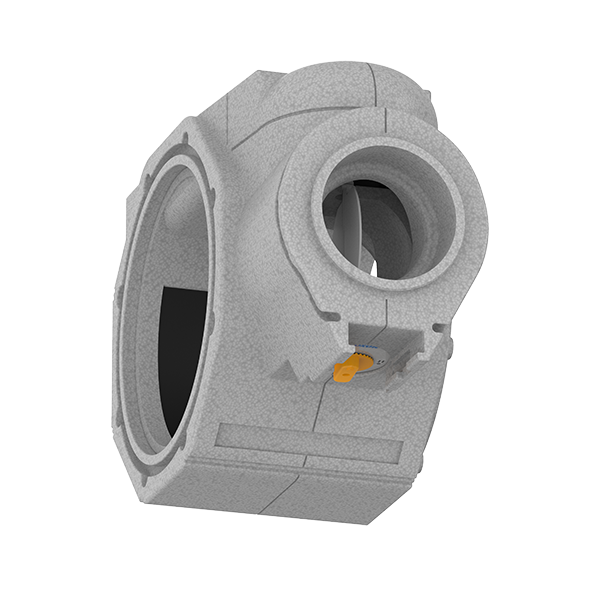 SPACER RING K/K
The K/K spacer ring is used to make the distributor modules point in different directions
while ensuring that all of the throttle drives are on the same side.
COVER
The cover is used to seal off both or either side of the distribution shaft.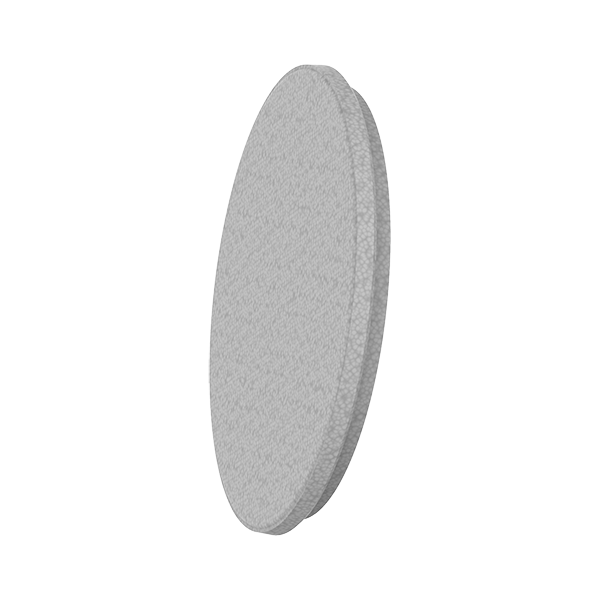 PIPE SECTION
The pipe sections are designed for use as air ducts within utility rooms.
DOUBLE SLEEVE
The double sleeve is designed for connecting two pipe sections that have been shortened.
TECHNICAL DATA




Series
Type
Length
Width of grid (B)
Height
Connection diameter
Distribution shaft diameter
Throttle valve
Operating temperature
Firerating
Feed Module
160
Art. no. 70285
320
225
270
160
200
0
STL-25/STH+100
5.1 (not readily flammable)
Feed Module
200
Art. no. 70284
320
250
270
200
200
0
STL-25/STH+100
5.1 (not readily flammable)
Combined Distributor Module
Art. no. 70286
380
175
270
100
200
1
STL-25/STH+100
5.1 (not readily flammable)
Bypass Module
Art. no. 70287
380
175
270
100
200
2
STL-25/STH+100
5.1 (not readily flammable)
Unit
mm
mm
mm
mm
mm
Number
°C



Series
Type
Length
Width of grid (B)
Height
Distribution shaft diameter
Operating temperature
Firerating
Spacer ring K/S
Art. no. 10523
270
25
270
200
STL-25/STH+100
5.1 (not readily flammable)
Spacer ring K/K
Art. no. 10546
270
25
270
200
STL-25/STH+100
5.1 (not readily flammable)
Cober


Art. no. 10524
215
20
215
200
STL-25/STH+100
5.1 (not readily flammable)



Series
Type
Length
External diameter
Internal diameter
Operating temperature
Firerating
Pipe section
Art. no. 10525
325
130
100
STL-25/STH+100
5.1 (not readily flammable)
Double sleeve
Art. no. 10526
50
130
98
STL-25/STH+100
5.1 (not readily flammable)
ACCESSORIES
● Installation kit (Art. no. 70288)


Installation example:
● Shaft extension (art. no. 10522)
Required when using electrical actuators


Installation example: