INSTALLATION HEATING ELEMENTS
AREAS OF APPLICATION
The air-lab installation heating element (EWE) is used in ventilation technological appliances and
air flow carrying casings for the pre or reheating of air.
Depending on the respective application use, the EWE is used behind a filter
in the fresh air or incoming air flow.
PRODUCT DESCRIPTION
The air-lab installation heating element is available in diverse combinations in various
widths (1 … 6 zones) and lengths (1 … 9 chip series).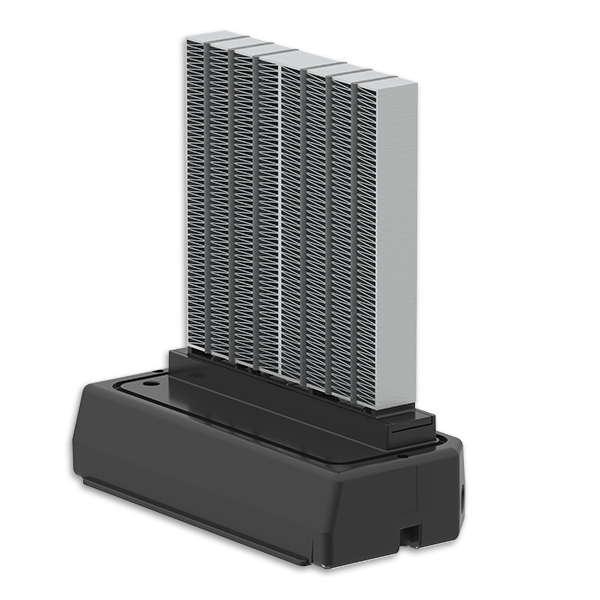 TECHNICAL DATA
(Selection of several models)


Length of connection housing
(without PTC Register)
Width of connection housing
(without PTC Register)
Height of connection housing
(without PTC Register)


Length of PTC Register
(without connection housing)
Width of PTC Register
(without connection housing)
Height of PTC Register
(without connection housing)


Volume flow
Performance (TE -10°C)
Performance (TE 0°C)
Pressure loss
30 … 150
672 … 1.029
611 … 960
7 … 66
30 … 150
809 … 1.262
770 … 1.195
7 … 66
30 … 150
857 … 1.477
835 … 1.385
6 … 49
30 … 150
704 … 1.184
683 … 1.114
6 … 49


Volume flow
Performance (TE 20°C)
Performance (TE 30°C)
Pressure loss
15 … 55
387 … 645
352 … 570
3 … 15
15 … 55
455 … 780
432 … 720
3 … 15
15 … 55
527 … 934
487 … 854
3 … 12
15 … 55
421 … 731
386 … 662
3 … 12


Length of connection housing
(without PTC Register)
Width of connection housing
(without PTC Register)
Height of connection housing
(without PTC Register)


Length of PTC Register
(without connection housing)
Width of PTC Register
(without connection housing)
Height of PTC Register
(without connection housing)


Volume flow
Performance (TE 20°C)
Pressure loss
20 … 100
330 … 900
4 … 37
20 … 100
380 … 1.022
4 … 37

air-lab GmbH
Zum Eulenbruch 10 & 12
D - 57399 Kirchhundem
Tel
Fax
+49 (0) 2764 261 35 - 0
+49 (0) 2764 261 35 - 20